Stringify Brings Unparalleled Depth to the World of Home Automation Apps – Paste Magazine
IFTTT has revolutionized the world of automation in recent years. Despite its apparent dominance, is it time for a new recipe based automation service to take a starring role? That's the thinking behind Stringify, an app keen to make connecting your favorite smart devices easier than before.
Having steadily grown this year, Stringify is a promising app. It uses a concept of creating flows for both physical and digital tasks with ease. At heart, that sounds a lot like IFTTT's recipe method but Stringify's flows are much more flexible and potentially more complex. Where IFTTT is restricted to a 'If x then Do y' mentality, Stringify allows for multiple triggers and reactions. It's not as easy to set up as its main competitor, but its powerful nature is useful in the right hands.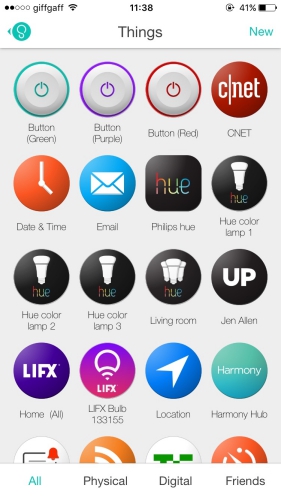 Set up involves selecting Things, divided up according to physical objects and digital services. Notably, fewer items are supported compared to IFTTT but it works with most of the big names in smart home automation such as Fitbit, Nest, Jawbone Up, Lifx, Phillips Hue, and Amazon Alexa. Unusually, there's no direct support for Sonos though, requiring some extra connectivity via a Samsung SmartThings hub. It's a similar case for Logitech's new gadget, Pop, which only works with Stringify via a workaround courtesy of the supported Logitech Harmony Hub.
Back to the Flows, however, and Stringify redeems itself quite well. Frequently, you can set up Flows that would only be possible with a number of different IFTTT recipes. How many times have you felt restricted by IFTTT's lack of flexibility? This isn't going to happen with Stringify. Assuming you have the right tools for it.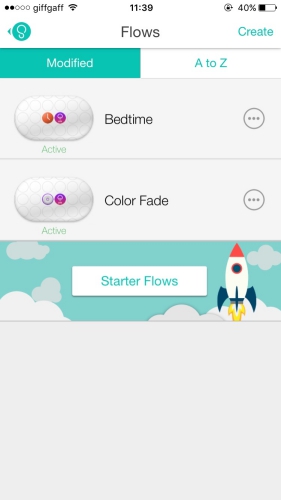 Here you drag around triggers and actions before drawing a line between them, and setting up various requirements before they can be activated. It's not as simple as IFTTT but that's because it offers more depth. It's possible to set up an action that triggers multiple devices rather than just one, before invoking various reactions after that. Limitations can be set too, meaning that, for instance, your smart lightbulb might only be activated if a set weather requirement occurs as well as the time you normally have it set to switch on. Its flexibility is simultaneously impressive and near overwhelming.
Anyone with past experience of automation services will appreciate that it's worth fully understanding to get the most out of what can be achieved. Having said that, as a relative newbie to the world of automation, it took seconds for me to set up a simple trigger in which my lights came on at a set time. It just took a little longer for me to master juggling it with multiple other activities at the same time. It might not look as stylish as IFTTT's simple approach, but it's capable of a lot more. There's always the option for utilizing one of the many ready-made Flows too, with Stringify dividing them up according to how they might help you. Tapping on the Fit section, for instance, provides a wealth of options relating to your fitness tracker. It's an excellent starting point as you learn how Stringify works.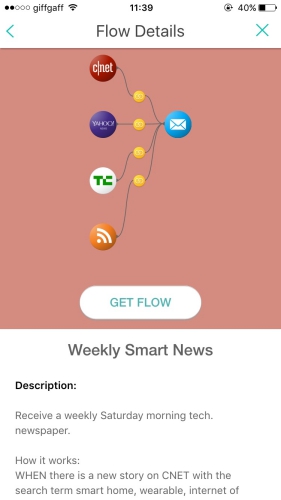 Options are also available for temporary flows. That means setting something up that will only run until a set date, rather than requiring you to dive into the app to delete or turn them off yourself. Such a reliance on dates and times is a shrewd move when dealing with certain situations that might only be relevant for a short time.
Added convenience also comes from Stringify's way of dealing with button shortcuts. Open the app and its home screen immediately offers you all your control shortcuts. It's efficient and ensures you still retain control for those times where you don't want to stick with full hands-off automation.
All this is only any use if you have an iPhone, though. For now, there's no Android app (although, it's coming soon), and there's no web portal for those times your phone isn't by your side. That's, arguably, Stringify's biggest issue. It gives with one hand then takes a little away with the other. Become accustomed to its complex Flow options and you'll soon realise that IFTTT is relatively weak on this front, but then you'll find a device that Stringify doesn't support, and you'll be back to your old favorite.
What is clear is that Stringify has a strong chance of potentially shaking things up in the home automation world. Competition is always good for the consumer. It ensures that while IFTTT and Stringify have to work for your attention and support, new features will continue to emerge, and make your smart home all the better. It'll be fascinating to see what the next few months will bring.
CommentsWrite a Reply or Comment:
You must be logged in to post a comment.