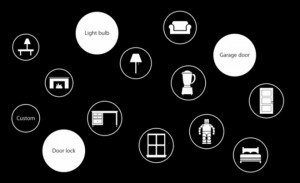 "Everyone is trying to solve the problem in different ways," says Broadcom evp for worldwide sales, Mike Hurlston, "it has to be solved and it will be solved."
Heavyweights like Apple, Intel, Qualcomm and Microsoft back different ecosystems of which there are a bewildering array: AllJoyn, Allseen, OIC/IoTivity, WICED, IIC, the UPnP Forum, DLNA, the EEBUS Initiative, Home Gateway, IPSO, and ARM.
With possibly big revenues at stake, and certainly big egos involved, the chances of all these guys getting together and forming a standardised market seems remote. But Hurlston remains optimistic.
"For this market to take off," he says, "standardisation has to happen."
The question is how, and Broadcom has a strategy.
"There are several different groups trying to accomplish the exact same thing," says Jeff Baer, director of embedded wireless marketing at Broadcom, "so we're practising shuttle diplomacy – we're talking to multiple groups trying to bring them together."
Asked if there were any signs that his diplomacy is succeeding, Baer replied: "The desire is there. They don't want a religious war around whose approach is right. They don't want to establish a walled garden."
Walled gardens were the stumbling point for the home automation push of 15 years ago led by Echelon. The difficulty of getting the big consumer players to make their stuff inter-operable with all the other guys' stuff killed home automation stone dead.
At that time corporate egos mandated that each company should aim at getting homes exclusively populated by their own automated products. Inter-operability was seen as a wimpish way to let competitors muscle in on a market which they should dominate.
"I think their approach has matured over the years," says Hurlston, "the aim is to get a standard and then the companies innovate on top of the standard. It happened with WiFi and we were instrumental in making that happen. It can happen again here."